2018 revenue: €201,5M (+13,6%)
Acceleration of H2 2018 organic growth: +5,4%
Strong growth in orders: Book-to-bill ratio > 120 %
The group consolidated annual revenue amounts to €201.5 million, up 13.6% including Novidy's activity in the second half of 2018. Growth on a like-for-like basis represents 3.4%, accelerating in H2 2018: +5.4% compared to H2 2017. European activities recorded strong growth of +20.3% (+9.4% on a like-for-like basis).
Orders for 2018 stand at €244.3M, up nearly 28% (+16% on a like-for-like basis), bringing the book-to-bill ratio over 120%. At the end of December 2018, the Group's backlog has progressed to 14.4 months of sales.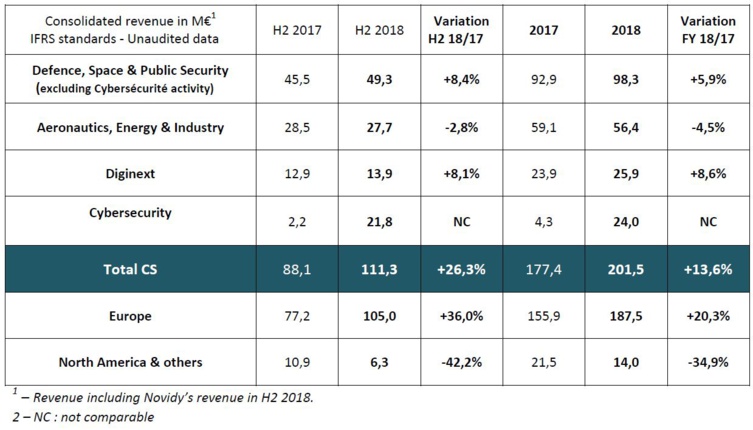 Defence, Space & Public Security
The group recorded a nearly 6% growth compared to FY 2017 and order book increased by more than 42%, including the signature of a major contract for the IP migration of the French military air traffic control ground-to-air radiocommunication system. The dynamic is favorable for all strategic segments of this activity, especially in the field of counter-UAV system where CS has the only operational system currently being deployed in the French Armed Forces.
In the space sector, the group is continuing its European development and confirms its breakthrough in the Navigation sector with the implementation of major subsystems of the EGNOS program for the accuracy and reliability of geopositioning signals.
Aeronautics, Energy & Industry
In France, for the third consecutive semester, revenue increased by 5.8% in the second half of 2018 (compared to H2 2017) and by 4.4% in 2018. Teams are mobilizing to ensure the development of projects combining business expertise with safety and security expertise.
Committed diversification in North America with new customers in the aeronautics and automotive sectors began to bear fruit in the second half of 2018, although it still does not offset the previously expected and announced decline in business at Pratt & Whitney.
Diginext
Revenues grew by 8.6% and the book-to-bill ratio remained strong at 107% with a favorable international sales activity. Diginext confirms its leadership in the field of Tactical Data Links and Forces Training, as demonstrated by the positive feedback from Diginext's participation in the world trade shows in this field (ITSEC and IDLS).
Cybersecurity
With the acquisition of Novidy's, cybersecurity activities now represent more than 20% of the Group's total activities. On a like-for-like basis, revenue for the second half of 2018 increased by 10.9% compared to H2 2017. The complementarity of the Group's activities in this strategic segment makes it possible to offer a global and transversal offer in all the Group's markets to meet the growing challenges of companies and operators of vital importance.
***
The Group's workforce represents 2005 employees at December 31, 2018 compared to 1851 at December 31, 2017. The group recruited 357 employees (permanent contracts) over the entire 2018 year.
Ambition 2021 plan and completion of the acquisition of MOLTEK
The activities performance in 2018 is in line with the Group's objectives set out in the Ambition 2021 plan, which aims to achieve annual revenue of €300M and operating margin of 8% in 2021, thanks to sustained organic growth and targeted acquisitions in the defense, space and cybersecurity markets.
CS Group has also completed the acquisition of 100% of MOLTEK Consultants Ltd today. Founded in 1995, Moltek provides consulting services to the space industry and recorded around €3.5M of revenue in 2018, with nearly 30 consultants in Germany and the Netherlands. This acquisition allows CS to strengthen its European positions and provide comprehensive services to its key customers, including the European Space Agency and EUMETSAT.
***
FY 2018 Annual Results will be published on April 5, 2019 (after trading). The SFAF meeting will be held on April 8, 2019 at 10:00 am
CS is a major actor in the design, integration and operation of mission critical systems in Defense & Security, Space, Aeronautics and Energy sectors. CS is listed on the Euronext Paris stock markets – Compartment C (Shares: Euroclear 7896 / ISIN FR 0007317813).
Relations presse
Barbara GOARANT
Tél. : +33 (0)1 41 28 46 94
Contact Investisseurs
Nicolas DUCHEMIN
Tél. : +33 (0)1 41 28 44 44