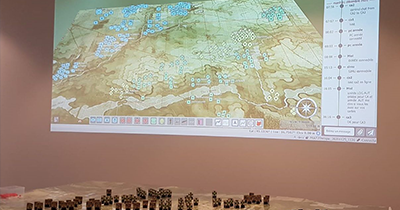 Like the virtual games produced at the Operations Planning and Control Centre (Armed Forces Staff) under the aegis of the Defence Innovation Agency, the CRIMSON platform was used for the first time as part of an exercise conducted by the Land Warfare School (within the Command Doctrine and Training Centre).
Crimson (crimson.diginext.fr/en/) made it possible to retranscribe, in a fluid manner, the movements of the physical game board to a virtual board and to share the situation between the different levels of command.
The feedback from users is very favourable: thanks to the ergonomics of the Crimson tool, everyone has been able to quickly get to grips with it, and the possibility of replaying after action has added educational value.