The Space Business Unit of CS GROUP wins the embedded software development project for the MMX rover (Martian Moons Exploration) on behalf of CNES within the framework of its cooperation with JAXA: Japan Aerospace Exploration Agency.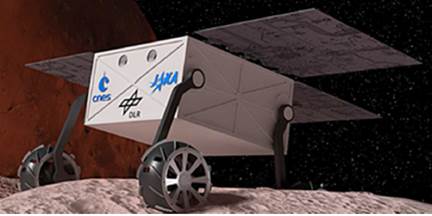 CNES is in charge of this rover which will land on Phobos, one of the two moons of Mars, to prepare the landing of the space probe whose mission is scheduled for 2024.
This mission aims in particular to help answer the question of the origin of these moons (asteroidal capture by Mars or accretion of matter ejected by a giant impact). The rover will reduce the risks taken by the probe during its landing. To this end, the rover will be dropped on the exploration site and will carry out various measurements thanks to three on-board experiments that will make it possible to evaluate local gravity, the contamination of external elements by the regolith and the nature of the soil in preparation for the probe's landing.
CS GROUP's mission is to develop this on-board software for the control and command of the rover. The second is the Rolbox software onboard the probe, which will ensure communication between the probe and the rover.
CS GROUP will develop this software in Agile mode in order to respond effectively to operational needs and project deadlines.
The project will be launched at the CNES in September 2020 for a planned launch in 2024!